Embroidering food
Is it enough for food to be tasty and nourishing? It almost certainly is, just as if you are writing a congratulatory letter all you'd really have to say is, "Good work!" Poetry is not required, but it's really nice, right? Life isn't all just what's required. When we have to, quick and dirty is the rule, but almost all of us like to turn out things of which we're proud. Part of that in the kitchen is making it look good.
This is on my mind right now because while I was one week without telephone, I made three dishes for guests that were really good but looked ugly. I didn't photograph them, because one brown pile on a plate is pretty much like every other brown pile on a plate, right?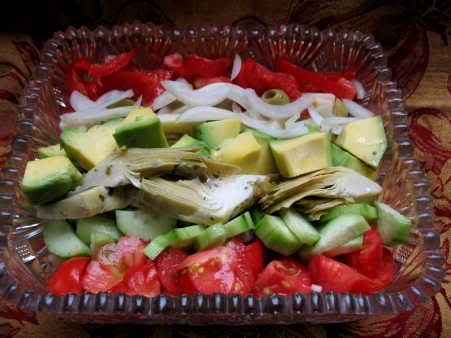 But does that mean I shouldn't post about those foods? I haven't decided, because it's absolutely true that blogs do much better with photos, but ugly photos of ugly food may not count. While I ponder that issue, here is a pasta salad so simple you may already have made it, but embroidered so it looks pretty and is worthy of photographing. It's good, too, but not as good as the stewed duck, choucroute garni or the pork and kraut in beer! It's just prettier. On purpose.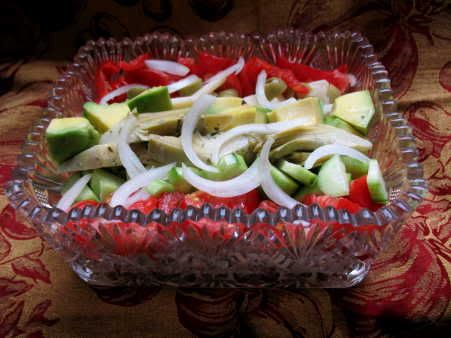 The entire time I was assembling this dish I was trying to make it attractive. I even altered it a couple of times when one impulse wasn't as nice as another idea. I didn't do anything foo foo, like tossing pieces of some herb over it and therefore changing the taste. I just used what I knew was good in ways that looked better than good.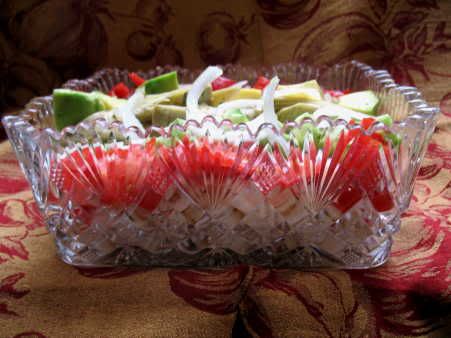 I went into a highest kitchen cupboard to get a beautiful crystal bowl and then I had to wash and dry it because it had been there so long. I wanted the framing of the deeply cut and sparkling glass and to see through the sides to the layers.
Pasta Pretty
serves 4
150 g (5 oz.) dry pasta in a neat and small shape
half a moderate tomato, diced
1/4 red sweet pepper, sliced
1/4 moderate sweet onion in strips
handful of green olives, sliced
about 6 pieces marinated artichokes, sliced thinner
1/2 cucumber, peeled, halved and sliced
1/2 ripe avocado, peeled and cubed
50 g (2 oz.) cheese that you like, cut into thin squares
Lemon juice and oil to dress.
Parmigiano Reggiano or Grana Padano to taste.
If you use the marinated artichoke hearts, then you can make the dressing with the herby oil from them. If you don't, then use good olive oil, which is higher quality, but needs some added salt and herbs. For this much pasta I used the juice of half a lemon and oil that measured three times that volume. I then salted it to taste.
Pare, cut, section or otherwise deal with all the ingredients ahead of time. Cook the pasta in boiling salted water until just al dente. Don't let it get flabby, because that's not attractive in any way. As soon as it's just done, drain it, put it back in the pan and throw the dressing over it. Mix it around. You'll find it is a bit slick, so you can grate some Parmigiano or Grana over it and mix that in, too. Then put it into the bowl you plan to serve it in.
Now start adding the other ingredients in patterns over the pasta. This, believe it or not, requires some thought, because if you work it one way you get equal amounts of condiments, but if you choose another way, you might be short of something you love. The rectangle was easy peasy for that very reason, but I would not shirk the challenge for pretty if my bowl were round. After all, that's what this post is about, right?
If it will be a long time before you eat it, then refrigerate it with plastic wrap on top but be sure to remove it an hour before eating it. Chilled is not tasty with pasta salad, secondo me.
It's been a long time since I've had a pasta dish to offer Presto Pasta Night, so I'm going to send this off with my warmest wishes to "More Than Burnt Toast" where you'll find an autumn line up of worldly pasta on Friday, so don't forget to go see it then.
And here is the serving I saved for you.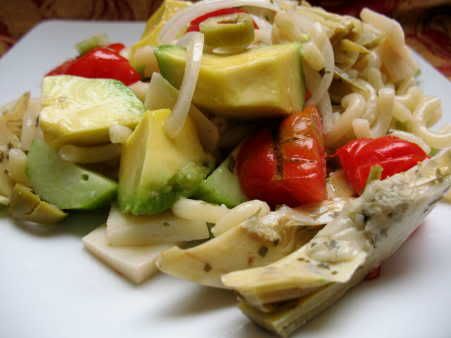 I invite your suggestions concerning publishing ugly food, too. Come, help me out with that thorny issue.
September 21st, 2010 in
Beauty
,
cookery
,
cucina
,
easy
,
economical
,
Italy
,
meal salad
,
pasta
,
presentation and serving
,
recipes
,
ricetta
,
salad
,
vegetables
,
vegetarian